Beatrix Joyce & Michela Filzi
The Throw Zone – Schwebende skulpturale Performance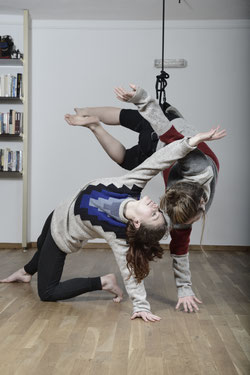 "The Throw Zone" ist eine skulpturale Performance, die mit der Idee verschmolzener Körper spielt. Zwei Tänzerinnen, eine hängend an einem Seil, bewegen sich als Einheit. Gemeinsam im freien Fall gefangen erschaffen sie die Illusion, dass die Schwerkraft für einen Moment ausgesetzt ist. Sich langsam steigernd, finden sie in überraschenden Posen eine große Ruhe. Ihre verschlungene Verbindung wird durch besondere Details aufgelockert – eine ausgestreckte Hand, ein zeigender Finger. So entstehen starke Bilder, absurd und alltäglich zugleich. Mit dem Kopf voran in die Unermesslichkeit der Möglichkeiten geworfen, thematisiert "The Throw Zone" die Ausdehnung der Zeit und entfesselt die Vorstellungskraft eines schwebenden tableau vivant.
Zeit: Samstag, 22. Juli 2017, 16 Uhr – SCHÄFERSEE-TAG
Ort: Schäfersee, östliches Ufer, 13409 Berlin
Beatrix Joyce is a performance artist, writer and film maker based in Berlin. She holds a BA in Contemporary Dance from Trinity Laban Conservatoire of Music and Dance, London and an MA in Critical and Creative Analysis from Goldsmiths University. She is currently working for Berlin Art Link as a reviewer of contemporary dance and performance.
Michela Filzi is a multi-media artist based in Berlin. She has a background in gymnastics and drawing and she holds a BA in Fine Arts and Design from the Audio Visual department of the Gerrit Rietveld Academy in Amsterdam. Her performances hold the middle ground between sports, rituals, endurance tests, ceremonies and dancing.